Florida DUI / Criminal Defense Attorney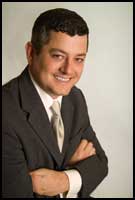 Criminal defense is a very complicated and highly specialized area of law, which Attorney John Musca has devoted his professional career to. After completing his undergraduate studies cum laude at Boston College, Attorney Musca received his Juris Doctorate Degree from Case Western University School of Law in 1997. He speaks fluent Spanish and has attended international and legal studies overseas at the world-renowned "Instituto International" in Madrid, Spain. He is licensed to practice law in the State of Florida and the United States Federal Court, Middle District of Florida.

Serving as a Public Defender in the 20th Judicial Circuit of Florida, Attorney Musca spent considerable time in court developing the skills needed for successful litigation through extensive case preparation and jury trials. Attorney Musca has tried misdemeanors through serious felonies. In addition to trials, Attorney Musca has extensive experience in Florida DUI arrests, violation of probation matters, drug charges, fraud, battery, domestic disputes, bond hearings, sex crimes, tourist arrests, expungements, and other criminal issues.
As a skilled and competent trial attorney, Attorney Musca has obtained successful results for even the most challenging criminal defense cases. He is proactive in the pursuit of justice for his clients and will demand a trial on the merits of their case, thereby forcing the prosecution to prove their case beyond to and to the exclusion of reasonable doubt. As a criminal defense lawyer he thoroughly investigates the charges and aggressively challenges the evidence against his clients.
John Musca is dedicated to winning by preparing forward-thinking, strategic, aggressive representation, and always negotiating from a position of strength. The foundation of Musca Law is built on his deep passion for the law and commitment to create a new benchmark for the practice of criminal law. Attorney Musca takes pride in the results his firm has delivered to clients, many of which can be viewed on our site under case results at https://muscalaw.com/
Attorney Musca has established an innovative firm philosophy leading to continuous improvements of client services and competitive advantages in every respect. He believes in utilizing core concepts of Six Sigma principles as part of his commitment to deliver exceptional value to his clients, without sacrificing the quality of legal services expected from a reputable law firm. By implementing a systematic approach of Law Firm Lean Leadership, Attorney Musca has created a legal practice focusing on streamlining processes and enhancing client service. Encompassing his "Firm Philosophy" the utilization of each staff member's skills and abilities to the fullest as a total legal team approach. Musca Law is a criminal defense law firm serving clients throughout the State of Florida that functions in a competent and winning style.
Additionally, Attorney Musca believes strongly in giving back to the community and supports numerous non-profit and charitable organizations throughout the State of Florida.